UPDATE: the eBook is now Launched – get your copy here.
FeelGooder is six months old and to celebrate we've created a little gift for our readership that we hope will make you Feel Better.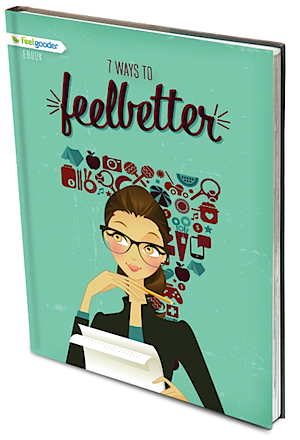 It's called 7 Ways to FeelBetter and we're launching it tomorrow here on FeelGooder.
Best of all, if you act fast after we launch it, you'll get it for free!
The idea
The idea for 7 Ways to FeelBetter came when I was having a bit of a bad patch a few months back. You know those times—the whole family seemed to have had the flu for weeks, work pressures were mounting and I was starting to feel just a little sorry for myself.
In the scheme of things, there wasn't anything major wrong, but I was in a bit of a funk and needed something to help me break it.
I'm not sure if it's just me, or if others are like this but I'm the kind of guy who needs a little project or challenge sometimes to get me moving, so the idea began to develop for a week-long project to help people Feel Better. I wanted it to be short enough for people to find achievable, as well as practical and action-oriented (just reading something isn't enough for me).
I took the idea to the FeelGooder team and we began to brainstorm what it could look like. We asked ourselves, "What makes us feel good?" And we began to make a list those things in life that lift our spirits, help us to feel good, and that—more importantly—help us to "be" better as human beings.
As we looked at the list, we realized that most of them could be clustered into seven different areas:
Exercise
Save
Connect
Eat
Act
Play
Think
Suddenly, we had the outline for our week-long challenge. So work began on our first-ever FeelGooder resource: 7 Ways to FeelBetter.
What is 7 Ways to FeelBetter?
This PDF ebook is designed to be read over seven days (or seven weeks, or even months if you want to take it slow) to get you thinking about each of these areas.
Each day gives you something to read and think about, questions to reflect upon, ideas for how to move forward in exploring the theme and resources to help you to apply what you come up with. It also includes an area to plan your next steps.
The ebook isn't about giving you all the answers. Rather, it's a springboard into the next week to help you more intentionally explore seven ways to feel—and be—better. My hope is that it'll help those of us going through a "rough patch" a way out of it, and those of us already feeling good to take it to the next level.
We'll also have a hashtag (#feelgooder7) for those working through the ebook to Tweet about where they're at, and how they're applying this resource—which will hopefully also add a communal element to the challenge!
What people are saying about it already
In the last few days, we've shot a few copies out to regular readers of FeelGooder to get their reactions, and the response has been fantastic! Here's what a couple of people have already said:
"7 Ways to FeelBetter is a fast and easy reminder to pay attention to what matters and and jumpstart the areas of your life that make the biggest difference in how you experience every day."

Jonathan Fields, author from jonathanfields.com
"For anyone who has ever found themself thinking "I'm stuck" or "Is this it?", you need to read 7 Ways to FeelBetter. It's fast and easy to read and yet it can make a profound difference to the way you think about your life. And live it."

Mia Freedman, publisher at Mamamia.com.au
"This ebook is like a pot of warm, melting chocolate… from the time you lay your eyes on it, all you want to do is devour it!  Each chapter is smoothly and deliciously filled with thoughtful, inspirational pieces of wisdom, allowing you to reflect, refocus and reinvigorate."

Meg Filip, Executive Coach and Trainer from megfilip.com
First 500 downloaders get it free
7 Ways to FeelBetter will retail for $9.99 USD (which we hope is accessible to most) but to celebrate its launch, and to thank our regular readers for your support over the last six months, we're going to give it away to the first 500 early birds who grab a copy for free.
FeelGooder five-dollar special
If you miss out on first free 500 ebooks, we'll offer another 500 for $4.99 (first in, best dressed)!
Once that allocation of 1000 people have their copy we'll be returning it to its normal price: $9.99.
I don't really know how quickly the first 500 copies will go (or the next 500) but we will be launching it here on FeelGooder and to those on our newsletter list (which you can subscribe to from our sidebar) at around 7am Melbourne Australia time tomorrow (Friday).
That's at 2pm Pacific time (Thursday), 5pm Eastern US time (Thursday), and 10pm UK time (Thursday).
So set your alarm clocks, and subscribe to our newsletter. We'll see you at tomorrow's launch!