Recently, I was mentioned in a blog post about home management and blogging. I left a fairly long comment on the post which and I thought some of what I shared might be of interest for the FeelGooder audience.
I've recently had my third child, L, arrive home from the hospital, so my wife and I are in the thick of family life. But of course I need to stay on top of work as well—and when you work from home, the lines can get a little blurry.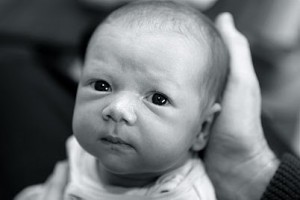 Here are my tips for working toward the work-life balance when your a parent with young children, and you work from home.
Set your priorities
For me, striking a balance is about working out what you want in your life, then structuring your life around that. It sounds simple, but it doesn't always come easily for me. I'm not a particularly organized person, and I'm certainly not naturally "domestic." But I do think we should at least identify what we want from life, and doing what is in our own control to achieve those goals.
Be willing to negotiate with yourself
I'm constantly negotiating with myself, on a personal level, as I look at my priorities and work out how I'm going to achieve them. This can be a real struggle at times—as I say, I'm not particularly "domestic" and there are 101 things I'd rather do than clean the bathroom! But all the same, I value hygiene and want be responsible for keeping my house (my family's biggest asset) in order. So I constantly wrestle with myself to do those things I don't particularly want to do.
At times, this negotiation has meant writing lists, setting daily tasks to complete, asking others to keep me accountable, and so on.
Be willing to negotiate with others
For me, living in a family requires us to work as a team. While we're no "poster couple," my wife and I are both reasonable people, and while we have our fair share of spats over who's going to do the dishes, we've semi-regularly negotiated who does what in the house.
This has changed as our lives have changed. In the early days, V worked full-time, and quite long hours, so in addition to my part-time jobs, blogging, and studies, I structured my days so I did more of the domestic stuff. From memory, for quite a while we had a bit of a "roster" system—we were newly married and needed a bit more structure in that area of our lives. Some jobs we took turns on (cleaning bathrooms, dishes, groceries and so on), but others we did consistently (I vacuumed, she dusted, for example).
Blogging happened in between everything else that was going on.
Over the last nine years of marriage, our life's changed. Today we have three kids aged five and under, including a three-week old, so we're in a new phase—something we've had to negotiate and work hard on. My wife is on maternity leave and isn't working, which also changes the mix. This week, I've cooked every night, she squeezed in a visit to the super market, I've looked after the kids from 7-9am each day while she's had a sleep-in, she's doen the night feeds, I've done the night settling … life's different!
Outsource what you can
Over time, we've "outsourced" different tasks. Really, this has been the result of our priorities as well as our resources. We want to achieve, experience, and do certain things, and to be honest, right now it doesn't all quite fit in.
As we have the resources to do so, we have someone come in for an hour every week or two to help with some cleaning.
I've brought in some help into my business to lighten my load so I can spend more time with family.
We probably get take out every couple of weeks.
All of these things help us achieve what we want to do with our lives. There have been times when we haven't been able to afford them; at others, we've wrestled with guilt over some of it; at others, we've come to terms with the fact that by having someone help in a certain area, we're better able to do things that we consider higher priorities.
I know that everyone's family and home life is different, but hopefully these ideas give a picture of how we make things work—or attempt to! The reality is that, of course, it doesn't always work. I have days when I'm lazy, distracted, or unfocused and need to pull myself into line (or need some accountability around that).
There have been times where it's all just worked smoothly, without much negotiation, but at others, I've had to put systems in place (schedules, rosters, lists, etc.) to help me keep on track. I find that even a week or two of following a routine is sometimes enough to snap me back to a good rhythm. After that, I can let the formal systems go, and move on.
I do know that works for me: to sit down and work out your priorities, and from that plan a weekly or monthly schedule to help you move towards those goals. In time, you might find a new more natural rhythm.
This is how I do it, but we can all use advice on striking a balance. How do you manage work and home priorities? I'd love to hear your tips in the comments.