Reading this heartfelt and honest piece by Kylie Ladd on Mamamia.com.au last week, I remembered something that I had long-forgotten from when my husband and I did our pre-marital education course a few years ago. Ladd talks about the restrained family upbringing her husband had, and how it has impacted his emotional connectedness with her today.
It's called Family of Origin theory: the family that you are raised in impacts enormously on the person you turn out to be. Your habits, your emotional expression, your way of interacting with loved ones … right down to how you sort your cutlery drawer, even (spoons to the left, thank you very much).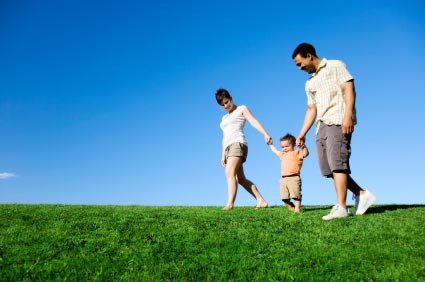 The idea is that each person brings with them into a relationship their own idea of how a family operates, based on what they've had ingrained in them over the years. This can prove problematic if two different systems start to clash.
Different attitudes, value systems, rules, customs, and taboos may cause friction between partners, or may turn out to be so hardwired that they prove hard to change, even if you want to.
If you are starting your own new family together—whether that's just two of you, or it involves children—it's worth talking it over first to make sure expectations are managed and any potential sticking points can be sorted out early.
How to talk about it
The exercise we did was a great way to get on the same page about what life was like for each other in our childhoods. It involved a huge sheet of butcher's paper each and a few colored markers. We divided our sheet up into eight panels by making folds.
If you'd like to play along at home, here is what each of the eight panels featured:
Family Tree: Draw your immediate family tree, showing your parents, you and any siblings you have.
Communication: Write down some key points about what communication was like in your household. Was it quiet and calm or energetic and chaotic? Were you listened to? How was affection demonstrated?
Roles: What role did your mother play? Your father? You? Your siblings? Was everyone happy with the roles they played?
Family Values: What were some overarching family values? Some examples from the sheet I have kept include generosity, striving for excellence, care, and respect. Also ask: Was appearance important? Were possessions important?
Conflict: How was conflict managed in your household? Was there yelling? Was there silent treatment? How quickly was it resolved?
Rituals and Culture: When was family time? Did you go on holidays often? Was dinner always at the table? How were Easter, Christmas, and other events treated? Was there close community that you socialized with as a family? Any cultural traditions that were observed?
Money: What was the attitude towards money? Did you feel financially secure? Who was in charge of the finances? What did money get spent on, as a priority? Were you aware of any money problems?
Education and Work: Was education important? What about higher education (College/University)? Were good grades encouraged? Were your parents happy at work? Was job satisfaction emphasized?
Sit down separately and answer all these questions on your sheets, then bring them together so you can talk about them. After each panel, ask each other what you like and would like to keep for your own relationship and family, and what things you intentionally would like to change.
It turned out that my husband and I come from families with very similar family values and traditions, but the way each communicated was completely different. It definitely shows in our own interactions—Denis doesn't back away from conflict at all; in fact he kind of seems to enjoy it. I prefer to keep quiet and mull over problems rather than get them out there. Our upbringings in regards to money, among other things, are also extremely obvious.
You may be surprised at the new level of understanding you gain of your partner after doing this exercise.
Do you and your partner come from similar families? Share similar values?