I bet you didn't even know you had a Love Map in you. Guess what? You do!
According to influential couples' therapist Dr. John Gottman, your Love Map is the part of your brain where you store information about your partner's dreams, goals, joys, fears, likes, dislikes, frustrations, and worries.
Things like your husband's favorite TV show or your wife's favorite leisure activities are significant "points" on your internal map.
Some people's maps may be more built up than others. It really depends on how much you pay attention to your partner. Later on in this article, I'll give you an easy way to test your love map, and an easy way to start building it up.
Thorough love maps are important, though. They strengthen relationships.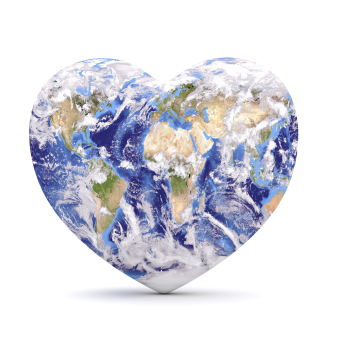 Couples with comprehensive love maps stay aware of their partner's changing needs. They constantly seek updates on what the other person is doing, feeling, and thinking.
Being understood in this way is a gift each partner gives the other, bringing great happiness and satisfaction. It also leaves couples better prepared to cope with stresses on their relationship.
For example, in one study Gottman interviewed couples around the time of the birth of their first child. For 67% of couples this stressful event was accompanied by a significant drop in marital satisfaction.
But the other 33% didn't feel a drop in satisfaction; in fact many felt their marriages had gotten stronger. The difference was the completeness of the couples' love maps. "The couples whose marriages thrived after the birth had detailed love maps from the get-go," says Gottman. "These love maps protected their marriages in the wake of this dramatic upheaval."
The point is also that couples' goals, dreams and priorities change over time. If couples can make a continued effort to update their love maps of each other, they stand a much better chance of making it through the hard times together.
Getting to know your partner
Set up a lighthearted quiz for you and your partner both to take about each other. You're to answer questions about your partner's preferences
Rather than getting angry that your sweetie was unaware of your favorite magazine, or social security number, it presents an opportunity for the two of you to bond further and get to know each other better.
My poor husband—I change my mind and my preferences at breakneck speed! My favorite color, food, beverage, and more could be completely different from one day to the next, depending on my mood. I still give him points if he guesses something that I used to like (last week) instead of something I currently like.
Luckily for me, he's quite the creature of habit … like a slow-moving glacier. I'm pretty confident that what he likes now will not change by Friday.
That said, I'm conscious that to keep our maps updated, we need to keep communicating on a deeper level than just "Can you hang out the washing?" and "Have you seen my socks anywhere?"
How to play
This is a great activity for your next low-key date night. Over dinner, breakfast, coffee, or baking, see how well you know each other and perhaps learn something new about your partner.
Start by drafting 20 questions across the different love map categories that you can quiz each other on. To be fair, pick ten questions each.
Don't get upset if your partner doesn't know the answer. Use it as an opportunity to get to know each other a little better. It can be as trivial as your favorite brand of toothpaste or as deep as your darkest nightmare.
Here are the primary categories and some example questions you might like to ask:
Family: Who is my favorite relative? What was one of my best childhood experiences? My worst?
Friends: Name my two best friends. Name one of my major rivals/enemies. How did I meet my best friends? Who is my greatest source of support (besides you)?
Work: What is my dream job? What is one of my major career goals? What part of my job do I hate? Which of my colleagues do I like?
Hobbies: What is one of my favorite weekend activities? How do I let off steam? What's my favorite sport?
Dreams: What are two of my aspirations, hopes, wishes? Do I have a secret ambition? What is it? What is my fondest unrealized dream? What do I fantasize about?
Favorites: What is my favorite book, movie, TV show, colour, flower, turn on? Which side of the bed do I prefer? What's my favorite season? Where's my favorite holiday destination?
Feelings: What medical problems do I worry about? What is one of my favorite ways to be soothed? What am I most sad about? What are some of the important events coming up in my life? How do I feel about them?
And so on.
Using the information
As you gather and store all these small details about your partner onto your love map, you can use the information to surprise and delight your sweetie in small ways.
For instance, a while ago my husband Den found out what one of my favorite comfort foods was from my childhood. He secretly contacted my mother for the recipe, went shopping for the ingredients and we made it together one night here at home.
You could buy your partner a bunch of their favorite flowers, pick up a copy of their favorite magazine, or take them to their favorite restaurant for dinner. If your partner has always dreamed of writing a novel, or learning French, enroll them in a short course to help them realize their dreams.
The best part
All this will make you feel closer to your partner and your unexpected gifts will be a wonderful way to show you appreciate them, love them and that you're thinking of them.
How detailed is your Love Map for your partner? Do you know them as well as you think you do?