Breaking up is more than just hard to do. It's physically painful. Scientists who have been putting dumpees into brain scanners have found that the same part of the brain lights up when they feel physical pain as when they see a picture of their ex-partner.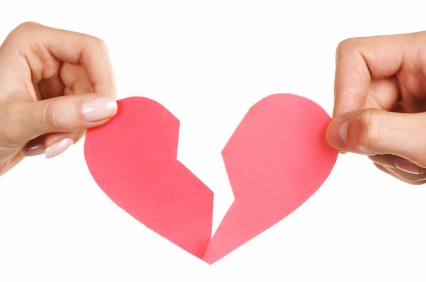 So now we can see why people who are experiencing an unwanted break up report feeling like they've been "kicked in the stomach" or "knocked sideways".
I know that during my last breakup, I spent many an hour nursing my solar plexus, which felt like it had gone six rounds with Mike Tyson.
The feelings during a break up are a mixture of grief and something akin to breaking a drug habit. That is, you're reliant on and addicted to what you get from your partner. Once they're taken away, you go into a withdrawal, heavily salted with the stages of grief.
Grief for the person you lost, grief for the future you'd been planning. Suddenly everything has to change. You have to readjust your five- or ten-year plan—sometimes you had your whole life with a person planned out.
You go through all the stages of grief—the denial (it's a break, not a break up) and then anger, fear, depression … and finally acceptance.
It's no wonder we can't just get on with life straight away. Everyone goes through a break up at their own pace. It's okay to be sad.
Here are a few tips on getting through the process.
Be realistic
Don't put your ex up on a pedestal. Know that they're just one of many people who will be a good match for you—the fish in the sea metaphor is a good one because it's true. Of course, in your addiction-addled state you won't believe this for a while. Keep it in mind until you do.
Accept it
You can't keep thinking you'll get back together. Your own grieving process will move quicker if you can accept that it's over. It's not just a break, it's a break up. Remove reminders of them and minimize your contact, especially early on in the break up process.
Put yourself first
This is a better time than ever to pamper yourself and take care of your own needs. Get to know yourself again, as some people may experience a little identity crisis after being part of a couple for so long.
Keep yourself clean
Turning to addictive habits to cope is not a good thing. You're very vulnerable in a break up state, and even things like too much caffeine can blow out anxiety to full scale panic-attacks. Don't binge on alcohol, drugs, food, or caffeine. You're only adding to your problems.
Get a support network
…Preferably of single friends! Reconnect with people you haven't seen in a while, and hang out having fun with other singles. It will give you hope that there is life after your break up.
How do you get through a break up?