I believe relationships need to be run a little bit like businesses.
Aside from the weekly meetings (aka "date night"), the lodging of the finances ("You spent how much on shoes?"…"They were an important marketing expense!"), and the internal memos ("Please pick the towels up from the bathroom floor. Sincerely, the CEO"), there is one outstandingly obvious thing that both businesses and relationships need to function efficiently:
A Vision Statement.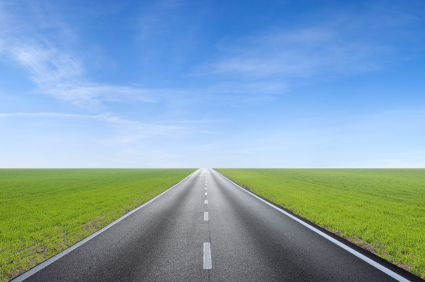 Couples—like any team—work best when they have goals to work towards.
Without them, partners tend to flounder around like blind mole rats, bumping into walls, falling by the wayside, and such things.
Whether it's a wedding, a house, or a dream holiday, I firmly believe couples that have goals to work towards together, flourish. A goal keeps you on the same track, and it gives you a sense of purpose and, ultimately, achievement.
Quite naturally, couples in the early stages of relationships will have regular goals stretching in front of them. Moving in together, finding houses, planning weddings,  and having children are all possible tick-boxes from early on in couplehood.
But after those things have been accomplished, what do we really have to bring us together?
Perhaps it's time for the annual business planning retreat.
Just to be clear, in life you will have your own personal goals—these should still be honored as your own private things to work on separately from your relationship goals.
A relationship goal is something that inspires the both of you. It's something big that you can both plan for and look forward to together.
Of course, all good goals are SMART. Be specific about what you're trying to achieve together, and make sure the end result is measurable (how will you know when you've made it to your goal?), achievable, and realistic (nothing is more defeating than not being able to make a goal you set yourself! Make sure you don't ask too much of yourselves!), as well as timely (when will you have your goal completed by?).
I think ideally when it comes to time frame, your relationship goal should be something you can complete within 12 months to two years. Once it's been achieved, sit down together and work out a new one.
Participate in a marathon, triathlon, or bike ride
If you're active types, sit down together and pick an upcoming event—a fun run, a walk, a bike ride, or a triathlon—and set up a training schedule together. You'll spend time each week working towards your fitness goals as a team, motivating each other, and training together.
The adrenalin rush of competing on the day will last long past the finish line! Plus, think of all the fun you could have with your (very toned) bodies once it's over!
Plan a holiday
Make it more than just a holiday—plan your dream holiday! Start by dreaming together over a stack of travel brochures … if you could go anywhere in the world, where would you go? What would you do when you got there? How much money would you need to take?
Put all the wheels in motion—set up your goals for the trip, visit the travel agent, and work out what you need to do to make it happen!
And save. Set up a separate bank account called "Our Holiday" and schedule a savings plan. It may not be a reality straight away, but if you don't start now, when will you?
Learn a language
Pick a language that the both of you would love to learn but never have.
Perhaps a language of love? Italian, French and Spanish are all very sexy choices! Or learn the language of a place you'd love to visit together one day. Sign yourselves up to a community college class together. You'll be perfect study partners, spending nights on the couch whispering sweet nothings in foreign tongues!
Take a class together
Find a short course in something that interests you both. The options are endless!
Photography, music, dancing, wine and food appreciation, yoga … check out your local community college or adult education establishment to see what they offer. Learning new things together sparks dopamine and norephrithrane hormones, patterning the same brain chemistry as when you first fell in love. That means you'll be high on tummy-butterflies for weeks to come!
Boost your savings
Name a figure you want to see in your bank account, then work towards it! Decide what it's for, and make it something that you both want, be it a deposit on a house, a big-ticket furniture item, or a car. Sit down and develop a savings plan that works for the both of you.
Make sure that once you hit your dream figure and purchase your goal item, you celebrate in style together! Take some of that hard-earned cash and splash out on a romantic night for two!
Do you and your partner set goals together? What's been your favorite?